Containers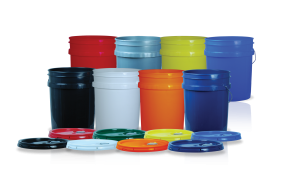 Martin Plastics is your packaging partner who can deliver reliable packaging solutions from plastic bottles to innovative easy gripper pails. Bottle and pail production, inventory, and distribution takes place in our 70,000 sq. ft. plastics-only facility located in Smackover, Arkansas. Every member of the plastics team is committed to delivering quality plastics at an incredible value for our customers.
Production Capabilities
Martin began manufacturing plastic bottles for lubricants packaging in 2012 with installation of a Uniloy Continuous Extrusion Shuttle Blow Molding Machine and a Uniloy Reciprocating Screw Blow Molding Machine that produced quarts, 1 gallon, and 5 quart bottles. In 2013, Martin Operating Partnership added four Husky injection molding machines to produce 5 gallon pails and lids. Expansion of the plastics facility continued in 2015 with the production of the 2 gallon bottle. Over the past 3 years, we have further added to our capacity with another Continuous Extrusion Shuttle Blow Molding machine and additional sizes.
Highlights
All primary inline colors available for production
Spouted and non-spouted lids for 4.8 Easy Gripper pails and 5 gallon pails
All finished containers are palletized
Decorating capabilities include offset printing up to six colors or heat transfer labeling
Download our Plastics Overview Brochure here.
For pricing and more information, e-mail plasticcontainers@martinmlp.com.